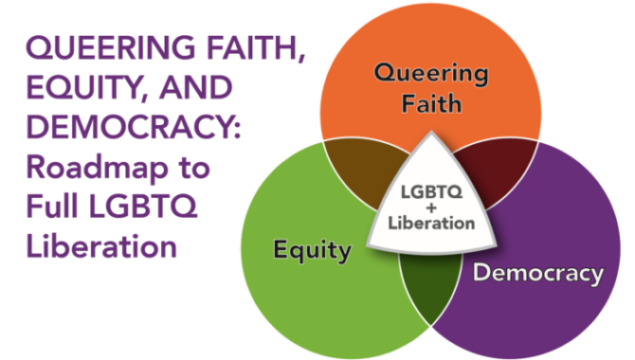 A preacher, a lawyer, and a community organizer walk into a queer bar . . .
. . . or maybe a coffee shop. Either way, you might not easily visualize a preacher, a lawyer, and a community organizer walking anywhere together. But here at the Task Force, not only is it possible, we believe it's essential to achieving equity for all. Two years ago, we merged our policy, organizing, and faith programs to form an Advocacy & Action Department with the goal of reducing silos, increasing our effectiveness, and creating budget efficiencies. These changes accomplished those goals, but also allowed us to see that inherent in our work is a roadmap that will more quickly bring our community its full liberation.
As the oldest national LGBTQ advocacy group in the country, the Task Force has always been ahead of our time and on the leading edge—this roadmap is one more example of our unique role in our movement. We have been and will continue to be the LGBTQ movement's futurists, painting the world as we want it to exist.
The first 50 years after Stonewall was about building power. We advocated for the introduction of the first-ever gay rights bill in the 1970s. In the next decade, we hired the first lobbyist to demand that the federal government respond to the HIV/AIDS crisis, and we launched the first national conference focused on LGBTQ equality. In the 1990s, we were the first national LGBTQ organization to explicitly include transgender people and issues of gender identity/expression in its mission statement and to establish a Transgender Civil Rights Project.
The '90s was also when we launched our iconic Queer the Census campaign and push for open military service. In the lead-up to and in the new millennium, we incubated and helped to create other national organizations that served to fuel our movement and do justice to the complexity and diversity of our people, including SONG, the Equality Federation, NQAPIA, NBJC, and more. We responded to the fight for marriage, discrimination protections, and the opportunity for federal policy change by training thousands of policy, organizing, and religious leaders for our movement across the country. We believe the next 50 years will be about leveraging our power to finally achieve liberation for our entire community. Liberation for us means that you can be all of who you are all of the time without fear that you will be harmed, discriminated against, or killed.
Our pathway to achieve full liberation will come once we are able to successfully queer (do differently) faith, equity, and democracy. These moves along the path are a three-legged stool; without any one of them, we will not win.
Faith:
We must strip the excessive moral influence the religious right has in our politics and communities by lifting up the LGBTQ+-affirming moral majority, which will make it politically safe for our community's interests to be represented in public policy. Queering faith will allow us to remove the biggest stumbling block to our progress—our opponents' political influence. We are accomplishing this through our Institute of Welcoming Resources, which includes our nationally acclaimed Shower of Stoles Project, and our Free Indeed Initiative.
Equity:
We must ensure that our progressive partners include the LGBTQ+ community in all of their public policy, communications, and organizing so we no longer have to retroactively fight for discrimination protections, criminal, reproductive, economic, racial, environmental, disability, and immigration justice. We are accomplishing this through our #AllofMeAlltheTime campaign and our Queering Repro* Project (which includes our LGBTQ+ inclusive sex education youth leadership program.)
Democracy:
We must have a fair and inclusive democracy that ensures LGBTQ+ inclusive and equitable policies become law. In order to achieve this, we need an accurate Census, favorable administrative policy, elected officials who care about and are educated about our issues, and fair districts. We are accomplishing this through our Queer the Census, Queer the Vote, and FedWatch programs.
Internally, we say we have to "Get FED" in order to achieve liberation. Externally, this is the Roadmap to Full LGBTQ+ liberation. With your support, we will be able to continue to blaze a trail, creating the future that will allow us all to live into our motto, Be You.
Victoria Kirby Elliott York, MPA
Deputy Department Director Advocacy and Action
National LGBTQ Task Force
Pronouns: she/they