(Washington, DC) – The National LGBTQ Task Force announces the Spring 2018 departure of longtime Director of the organization's Creating Change Conference, Sue Hyde.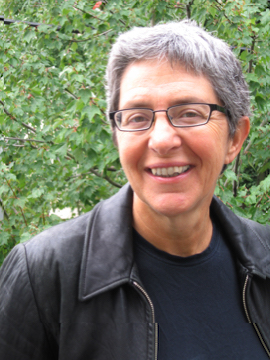 Hyde has served the Task Force since 1986, overseeing a range of initiatives in addition to the Creating Change Conference. She is taking a new position as Executive Director of the Wild Geese Foundation, a family foundation, where she will direct resources to small non-profits focusing on LGBTQ people, youth, women, reproductive justice, food and water access.
"I am honored, privileged and humbled to have directed and programmed the Creating Change Conference, from its founding in 1988 to this day," said Hyde. "My mission has been always to assemble a conference program of teaching and learning that builds the strength, the resilience, the creativity and the skills of community organizers in our beautiful LGBTQ movement, as well as allied movements. As a co-founder of our Creating Change Conference, I know that the yearly gathering has served many purposes, and most importantly, as a platform for better community organizing, a craft I cherish and respect. If there have been shortcomings, those have been mine. If there have been triumphs, those are yours, all yours. May Creating Change always be our space and place and time to love each other, to nurture each other, and to build a movement that secures freedom, justice, dignity and equity for all of us," said Hyde.
For over three decades, Sue has inspired and nurtured organizers and advocates to participate in democracy and build the LGBTQ movement by gaining the skills they need to create change at the local, state and national levels. The Creating Change Conference started with the simple goal of providing a space for activists to gather, connect and build their skills. The catalyst for the conference was the October, 1987 "Second National March on Washington for Lesbian and Gay Rights." At the rally for the march, the overarching message was clear: go home, roll up your sleeves and get to work in your local communities. Following this clear message from movement leaders, the Task Force (known at this time as the National Gay and Lesbian Task Force) was deluged with requests from people all over the country who wanted to answer the call to action and "do the work" in their own backyard, but did not know where to start. At the first conference, 350 people showed up and the rest is movement history with its current status as the largest annual gathering of 4,000 activists, organizers and leaders in the LGBTQ movement.
"Sue's impact on the LGBTQ movement is immeasurable and unmatched as one of the few people who have served in one of the LGBTQ national movement's organizations for over three decades. As an activist, leader, public speaker, author, teacher, organizer and strategist, Sue's work is inextricably intertwined with the major landmarks of the LGBTQ movement's progress and history. Through Sue's leadership of our Creating Change Conference, innumerable organizations have been founded, new areas of work have been made visible, generations of activists and advocates have come up to lead in our movement and others, and people have come together to strategize, mourn and celebrate. I have always marveled at Sue's artistry in curating a national convening that somehow adapts to the massive changes in society and in the LGBTQ movement. I will truly miss working with her," said Rea Carey, Executive Director of the Task Force.
Among her many contributions and accomplishments, Hyde is known for:
Come Out and Win: Organizing Yourself, Your Community and Your World (Beacon Press, 2007), Author
Military Freedom Project 1988-1990, Co-Founder
Privacy Project 1986-1990, Director of a community organizing project to challenge anti-sodomy laws in the 25 states that criminalized private, consensual, adult sex between persons of the same sex at the time of the Bowers v. Hardwick SCOTUS decision
Massachusetts marriage equality victory 1995-2007, strategist
Hyde's last conference as its Director will be the 30th Anniversary, 2018 Creating Change Conference, held January 24-28 in Washington, DC. The Task Force will soon commence a national search for a new Creating Change Conference Director.
Praise for Sue Hyde:
Urvashi Vaid – former Executive Director, National LGBTQ Task Force; CEO of the Vaid Group; Interim Executive Director of LPAC:
Sue Hyde has guided the complex and amazing experience that is the Creating Change Conference from the first minute that the idea was conceived in 1988 to this day. Sue's political vision is radically inclusive, always grounded in respect for grassroots leadership and informed by a skepticism of economic, racial, gender and power hierarchies. Sue Hyde is one of the most effective organizers with whom I have ever worked. She has always been able to go into communities, engage with grassroots leaders, listen to their goals and plans and create ways to support and advance that organizing.  She will be missed by all of us who have been a part of the Creating Change family, but I am thrilled she is going to continue to work on queer and social justice issues in her new role at the Wild Geese Foundation!
Sara Whitman – Executive Director, Wild Geese Foundation:
Sue is always asking questions as a way to get people to think differently, especially when they are entrenched in their position. It's always clear, and thoughtful and starts with, "So, let me ask you a question…" and then pauses. And then asks.
Lisa Weiner-Mahfuz – Executive for Programs and Strategic Partnerships for the Religious Coalition Reproductive Choice; former Director of Capacity Building at the National LGBTQ Task Force:
May the Goddess bless her for 30 years of Creating Change. Sue is one of the boldest, most risk taking and innovative leaders of our time. If you want anyone to think out of the box on movement leadership, she is the woman. She is an uncompromising badass.
Matt Foreman – Task Force Executive Director (2000-2006), Senior Program Director, Evelyn & Walter, Haas Jr. Fund:
By inspiring, challenging and educating thousands of LGBT activists – young and old – Sue has had a greater impact on our movement than any other person ever, period. Moreover (and unlike many of us), Sue has always risen above all the slings and arrows coming her way over the years because of her unwavering commitment to the end goal: equality, justice and freedom for our people. She will be sorely missed.