(MIAMI, FL – October 26, 2022) The National LGBTQ Task Force held its annual gala, presented by Truist, on October 22, 2022. Sandra Valls emceed this year's gala, which honored the contributions of gun control and LGBTQ+ advocate X Gonzalez, MSNBC's Jonathan Capehart, and longtime allies the Gadinsky family.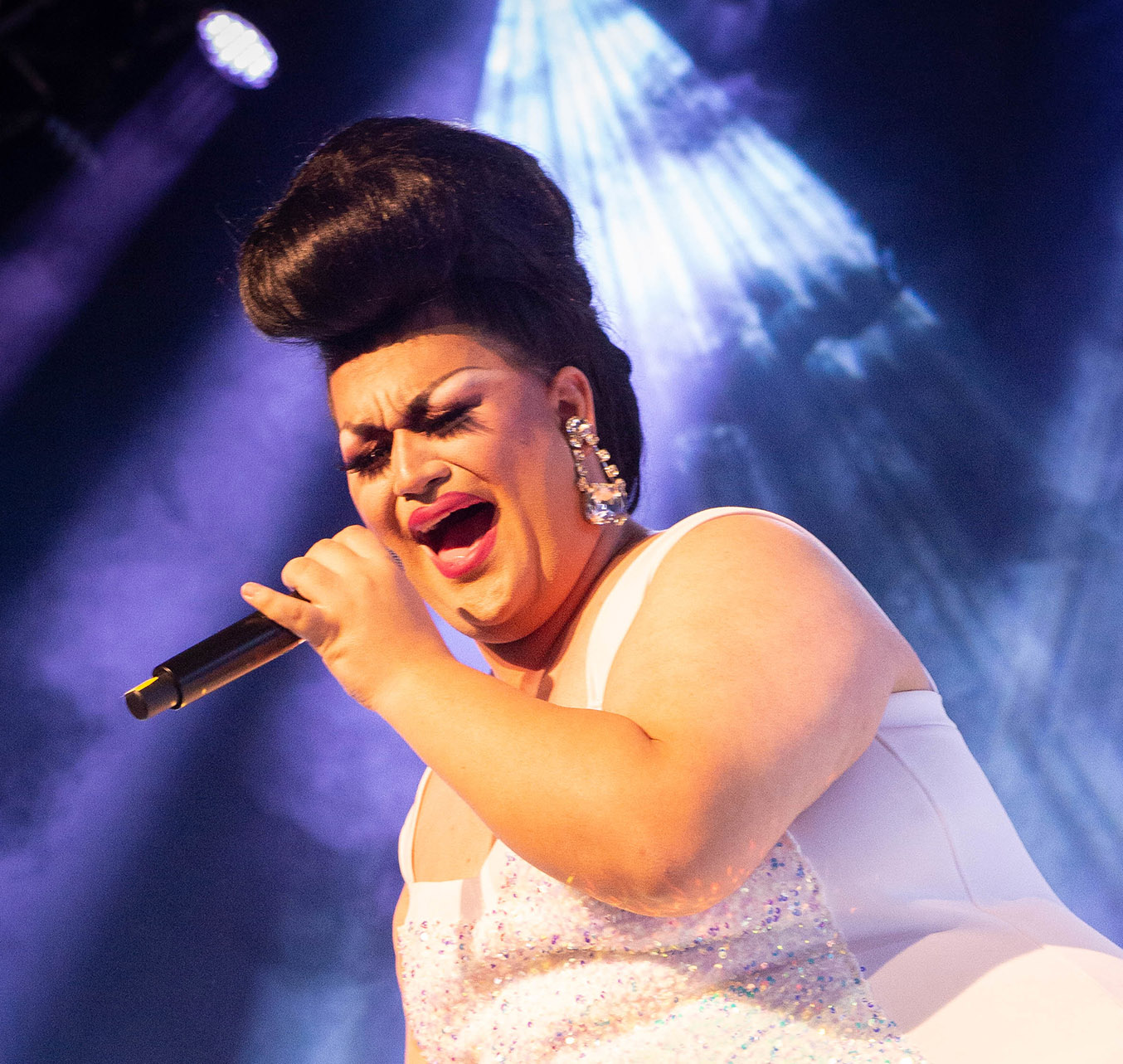 The theme of 26th annual gala was "Red, White & You," emphasizing the National LGBTQ Task Force's "Queer the Vote" campaign and the community's work to mobilize progressive-minded voters to participate in this critical midterm election year. Held at the Grand Ballroom, Miami Convention Center, 780 people enjoyed the pre-dinner reception, a silent auction that raised over $140,000 the dinner and after party.
The Gala raised more than $900,000, exceeding the previous record by over $150,000. The fundraising efforts were buoyed by over $500,000 in sponsorships, more than $100,000 in ticket sales and $100,000 raised during the text-to-pledge portion of the evening.
Highlights and remarks:
Task Force Executive Director Kierra Johnson set the tone of the dinner, acknowledging the many challenges Florida's LGBTQ+ and other marginalized communities are facing and letting attendees know that the Task Force is with them and doing the work in a state that often is a proving ground for anti-LGBTQ legislation and attacks.
Johnson's remarks included: "By being here tonight, each one of you is reinvesting back into the local community right here in Miami Dade and Broward counties and supporting our movement on a national scale…… As we near what is easily the most important midterm election in my time, we know that democracy is on the ballot. And voter suppression is real. Just this week we saw people arrested and taken away in handcuffs for alleged voter fraud – after being notified by official government entities they were in fact eligible to vote…..this cannot stand, and the Task Force knows that far too often those targeted in this way are the most marginalized – LGBTQ+, people of color, immigrants and the economically disenfranchised……. The Task Force is on the cusp of celebrating our 50th anniversary next year…..and while we have so much to celebrate, so many fights we have won and achievements to be proud of. But we are also up against a lot in this moment and need to work at the national, state, local, and even hyper-local level to maintain freedoms we have already won. The road ahead won't be easy, but what I know is that ours is a community that has managed to sparkle, even in the worst of time, and whatever lies ahead, we will face it together, and together we will always shine bright."
LGBTQ+ and gun violence prevention activist X Gonzalez was presented with the Changemaker Award, saying: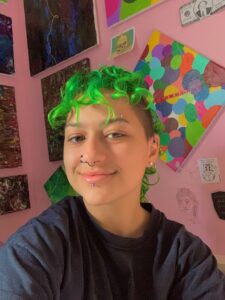 Thank you so much to the National LGBTQ Task Force for this Changemaker Award. It means a lot that people recognize the sacrifices and effort that I, along with my coworkers and fellow students, put forward in order to make this country a better place…..Certain high profile people in our society have pressured all of us to find our differences frightening, as opposed to eye-opening, these people want us to believe in "us vs them." When people who are supposed to represent you, fight for your rights amongst other representatives from other states, when these people tell you to question your trust in science, in dissenting opinions, in rational thinking – they're not doing it to open your mind to conspiracies designed to strip you of your rights. They're doing it to scare you, to entice you to vote for them, "the only one speaking truth to power"….. It's up to us to call out the bullshit when we see it. It's up to us to vote sane and selfless people into office. It's up to us to tell them the type of world we want to live in once they're in office. It's up to them to pass laws that will protect us from ourselves, for them to fix all the problems that their predecessors left behind. We need to address climate change, or there won't be a world to fix and protect. The billionaires in this world need to give up their ungodly riches before the rest of us starve to death, homeless in the streets. The fearful minority needs to realize that that if they want to stop pedophilia, they don't need to make it harder for kids to get puberty blockers, they need to make the men in their families go to therapy. All healthcare costs should be footed by the state. If you want to live in a better world, you need to play your part in making it better. At the end of the day, our elected officials have the final word, but it's their job to make damn sure it comes from us. not us vs them, all of us. It's easier for an autocratic regime to take over when we, the people, are divided and feel hatred towards each other….The ways that we can make the world a better place are bountiful and varied – everyone can find a way to help this country, each other. You can donate to and volunteer with organizations like National LGBTQ Task Force, Equality Florida, March for Our Lives or other local groups within your community…"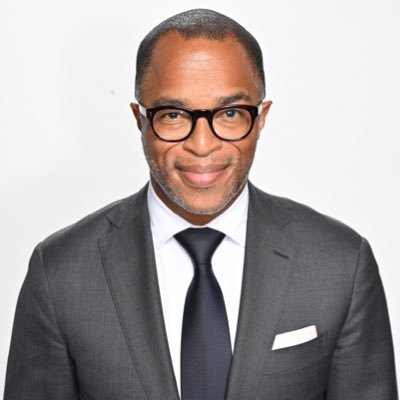 MSNBC anchor and Associate Editor of The Washington Post Jonathan Capehart received the National Leadership award and commented: "When I came out to my mother in 1990 the first thing she said to me was 'don't tell anyone'…..but denying who I was, not being me, was not an option…..I have brought my whole self to the table in print and on television…by sharing my perspectives as a Black man and an out gay man…..it is not lost on me what I symbolize, America's slow, inexorable march forward….I am the descendent of slaves, who grew up in the Jim Crow South, my cousins and I the first generation in our family that didn't have to pick cotton…….I was able to marry the man I love….I just interviewed the President of the United States for my MSNBC show….I say this because that is me, that Black gay young man who came out to his mother so many years ago who warned him not to tell anyone. Receiving this year's National Leadership Award is an incredible honor but please know that I know I did not get here through my own grit and gumption, I am able to do what I do thanks to the tireless fight for equality and justice waged by organizations like the National LGBTQ Task Force…"
The 2022 Eddy McIntyre Community Service Award was presented to a family that has championed equality for LGBTQ+ people and broad social justice reform for more than three decades: Liebe, Seth, Naomi, and Natasha (Tashi) Gadinsky. They also received the key to the city in a surprise presentation from the Mayor of Miami. Tashi has this to say: "Naomi and I grew up surrounded by the warmth of a loving chosen family before we even knew what 'chosen family' meant. Our childhoods were brightened by giggling over Sunday night Thai food with our 'guncles' and snorkeling in the keys with our 'lesbiaunts.' As some of you may know, I am also now a card-carrying member of the LGBTQ family…..I've never felt happier or more like myself…..thank you to the National LGBTQ Task Force and of course to my Mom and Dad, for fighting for and securing so many rights and freedoms that I now intimately enjoy. I can't believe how recently we gained adoption rights and marriage equality – thanks to the blood, sweat, and tears of activists like many in this room. While we have come so far, it must be acknowledged that these rights have not been equally felt for so many, including queer people of color and those who exist outside the binary. I am grateful that growing up in the trenches of Save Dade and the Task Force showed me first-hand how community, compassion, and dogged persistence can help dismantle these systems of oppression."
This year's Gala was presented by Truist. Truist Financial Corporation is an American bank holding company headquartered in Charlotte, North Carolina and formed in 2019 as the result of a merger between BB&T and SunTrust banks. Truist is committed to diversity, equity, and inclusion and boldly believes in the power of what we can achieve together.
Through the Gala and the Task Force's Winter Party Festival, the Task Force has given away over $3.3 Million to vital LGBTQ+ community services in South Florida, in partnership with the LGBTQ Community Fund at the Miami Foundation. This year, a sizable portion of proceeds will go to support the LGBTQ+ Equity Fund.
CONTACT:
Cathy Renna, Communications Director, National LGBTQ Task Force, 917-757-6123, crenna@thetaskforce.org
---
The National LGBTQ Task Force advances full freedom, justice, and equality for LGBTQ people. We are building a future where everyone can be free to be their entire selves in every aspect of their lives. Today, despite all the progress we have made to end discrimination, millions of LGBTQ people face barriers in every aspect of their lives: in housing, employment, healthcare, retirement, and basic human rights. Those barriers must go.