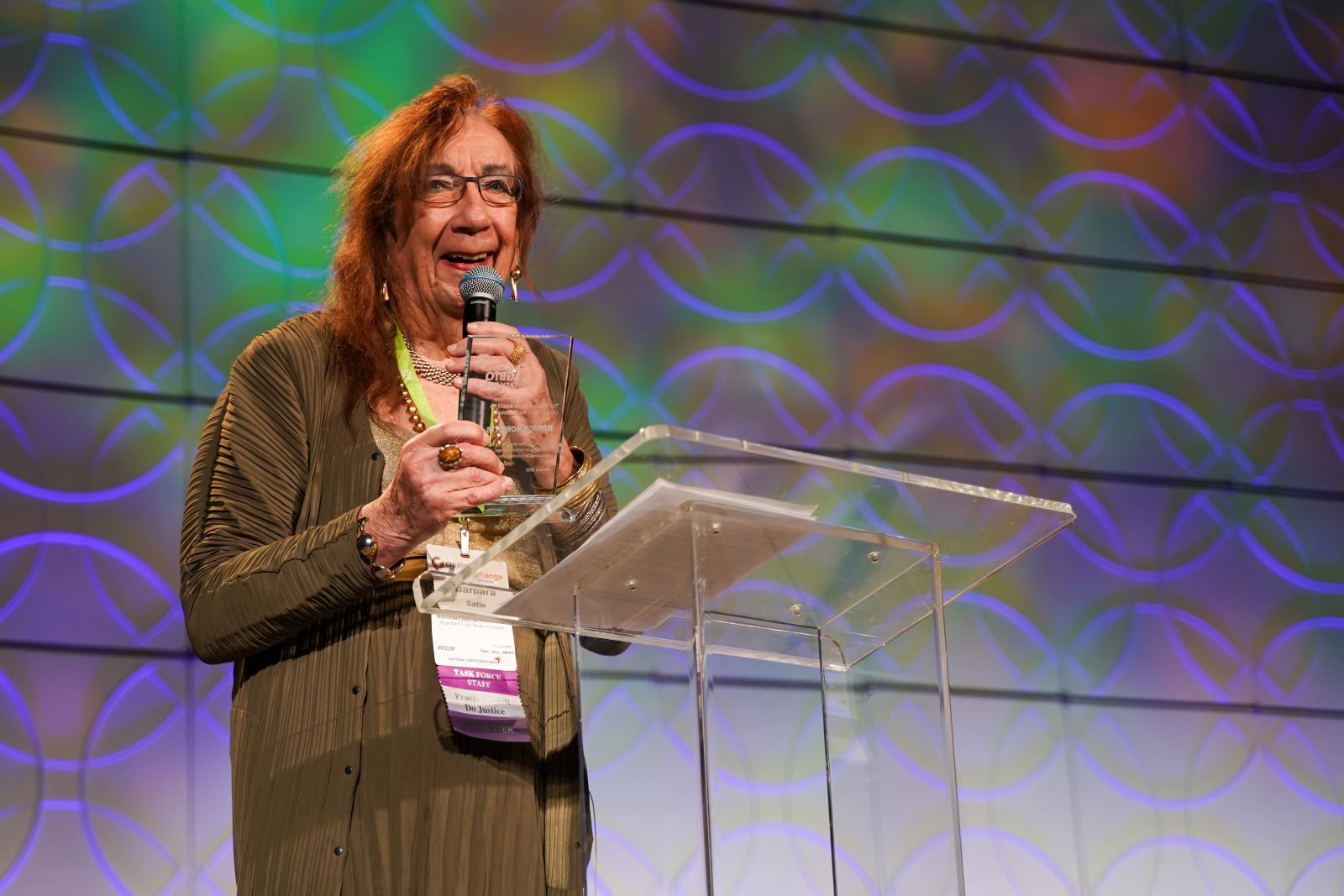 WASHINGTON, DC – Barbara Satin, a transgender activist who has worked on issues of aging, faith, and gender justice, will retire from a long and successful career in advocacy and step down as Faith Work Director at the National LGBTQ Task Force, where her responsibilities included working for the full inclusion of trans persons in communities of faith. The Task Force will launch a national search for a new Faith Outreach Director shortly.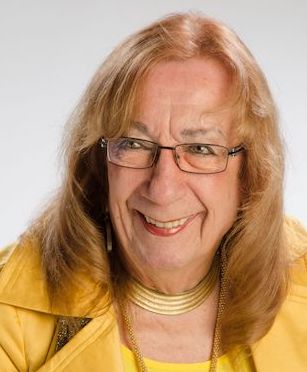 "Barbara Satin's contributions to the movement are innumerable and will be felt for generations to come," said Kierra Johnson, Executive Director of the National LGBTQ Task Force. "You only need to be in the room with her for moments to feel the power of her presence and authenticity. Listening to her words reveals the depth of her love for people and her conviction in the belief that justice is not only possible but inevitable. Truthful and compassionate, fierce, and rooted, visionary and practical – Barbara seems to effortlessly lead with integrity and a balance not exhibited by many. It has been an honor working with and learning from her. On behalf of the Task Force and with great appreciation, we thank Barbara for helping us bring out our best for each other and the community!" concluded Johnson.
Satin was born in 1934 in St. Paul, Minnesota. Her father died soon after, leaving her mother to raise four children with the help of supportive relatives. Roman Catholicism was deeply engrained in the family; all the children went to Catholic schools and the church was an important part of their daily lives. Raised as a boy, Barbara was aware of her gender difference at an early age but had no vocabulary or ideas with which to understand and address it. She only knew that she needed to hide her differences to survive.
After two years as a young teenage seminarian, Barbara realized a call to priestly ministry was not possible in light of her gender journey, so she left the seminary and attended Catholic high school. After high school, Barbara studied at a local Catholic college, focusing first on philosophy, then graduating with a degree in sociology. During those college years , she was impacted by the story of Christine Jorgensen, whose sexual reassignment surgery in Denmark in 1953 made headlines around the world. This was Barbara's first awareness that she was not alone.
After graduating from college, Satin received a commission as an officer in the U. S. Air Force. While training as a pilot in Texas, a kidney infection ended her flying career, and she was given a medical discharge. When she returned to St. Paul, where she fell in love and hoped that marriage would bring an end to her gender issues. The marriage was blessed with three wonderful children.
Barbara then had a successful business career in public relations, was a prominent leader in the Roman Catholic Diocese and a well-respected civic activist. While she struggled with her gender identity throughout these years, Barbara was committed to raising her family. At age 54, Barbara took early retirement and began to explore her transgender identity.
With the support of her children and a knowledgeable therapist, Barbara came to understand that her transgender identity was how God had made her and could be a blessing in her life. To explore her identity more fully, she moved out of the family home to live full-time as Barbara, later returning to her family.
Feeling that there was no place for a trans women to be of service in a Catholic setting, Barbara explored being spiritual on her own but found she missed being part of a faith community and found Spirit of the Lakes Church in Minneapolis. The congregation was primarily LGBTQ and was also the first LGBTQ church in a major Christian denomination. Barbara quickly found a spiritual home there and became a leader in the congregation. Through Spirit of the Lakes, she became part of the United Church Coalition for LGBTQ Concerns (now the Open and Affirming Coalition of the UCC). As an active member of the UCC and the leader of the Coalition. Satin served on the denomination's Executive Council as its first openly transgender member and played a role in the church's 2003 decision to affirm the inclusion of transgender people in the full life and ministry of the church.
For the past 21 years, Barbara has convened the Transgender Day of Remembrance in the Minneapolis/St. Paul metropolitan area. These annual gatherings, held in more than 300 cities across the world, memorialize the lives of trans and gender non-conforming people who have been murdered in the past year.
Barbara also provided leadership for the development of Spirit on Lake, a LGBTQ senior housing project in Minneapolis. The 46-unit, affordable rental facility opened in September 2013. At the time it was only the second such project in the U.S., an early and pioneering project in the growing field of advocacy for creating housing for LGBTQ elders.
On 2014, Barbara spearheaded the creation of the Trans Seminarian Leadership Cohort, still the only program of its kind and thriving as part of the National LGBTQ Task Force's faith work.
In February 2015, Barbara was invited to the White House to talk to the Administration about housing concerns for LGBTQ seniors and in July 2015 she was one of three LGBTQ people invited to participate for the first time in the White House Conference on Aging. Barbara has also been a board member of several non-profits that serve LGBTQ people in the areas of community activism, philanthropy, training of senior care providers and HIV/AIDS services.
More recently, President Barack Obama appointed Barbara to the Presidential Council on Faith Based and Neighborhood Partnerships in 2016 and in January 2021, she participated as a prayer leader for President Biden's Inauguration Breakfast.
In the past year, as the Task Force focused on passage of the Equality Act, Satin recruited faith leaders in 8 states to meet with Senators about importance of passing this critical legislation. She also ensured that faith leaders made their voices heard through the media, with clarion calls for a federal solution to the ongoing problem of discrimination.
Reaction and support from Barbara's colleagues and fellow activists:
"Through her work at the Task Force, Barbara Satin has been an anchor for pro-LGBTQ faith-based organizers, an architect of a national infrastructure of support for faith-based leaders and an innovator in creating ways for our movement to connect across faith traditions. The work has been vast in its scope and vision, always collaborative, and often breaking new ground. She has worked tirelessly to heal the pain and sadness so many in our communities experienced from rejection by some mainstream faith institutions. I hope she knows how deeply valued her work has been by the many people she has benefitted. Thank you, Barbara, and warmest wishes in your new chapter of life and work." Urvashi Vaid is a long-time lesbian activist, and a former executive director of the National LGBTQ Task Force.
"For much of SAGE's history, Barbara Satin has been an iconic activist and leader in our queer aging movement. From helping to spearhead one of the country's very first affordable LGBTQ elder housing developments (Spirit on the Lakes in Minneapolis) to serving as a powerful presence for our community's elders at the 2015 White House Conference on Aging to partnering with SAGE and many others on a multitude of initiatives and projects over many years, Barbara has set a standard that defines the best of queer activism. Amazingly, she has made this huge difference on elder equity even while simultaneously blazing trails as a trans and faith leader! Our world is so much better thanks to Barbara. And she's only just begun! We can't wait to see what awaits in Barbara's next chapter. Her friends at SAGE will always be honored and excited to partner with and support Barbara as she keeps breaking new ground for all of us!" – Michael Adams, Executive Director, SAGE
"Barbara often describes herself ministry as modeled after that of the scriptural Martha. At any gathering, you will often find Barbara in the kitchen, washing dishes. And, although her public presentations are transformative, it is her ministry of presence that many point toward in talking about her. From serving on literally hundreds of boards and committees to befriending, Barbara's greatest gift is her being with you, in solidarity, as a listening ear and as a tireless, behind the scenes advocate. There are seemingly no too-small nor too-big roles for Barbara. Her heart is big enough and her ego small enough to serve where she is called: from a church basement to the White House Council on Neighborhood and Community Partnerships and everything in-between. For those of us in the Twin Cities, where Barbara has lived for most of her life, there are no aspects of our communal LGBTQ life that have not been touched in some way by Barbara's work and ministry. And we are so much the better for it. As she retires, know that we are lifting a collective cosmo (her favorite drink) in the deepest gratitude for all you've shared with us." Rev. Dr. Rebecca Voelkel, Pastor, Theologian, Movement-Builder, former faith work director at the Task Force
Barbara Satin's very presence, her very beingness reflects the Divine's outrageous love for all people. Barbara has been a force of radical faith – a faith that is open, fierce, welcoming, and transformative. Thousands of LGBTQIA people have known Love because of Barbara's work as the Faith Work Director at the National LGBTQ Task Force. I am grateful to have worked with Barbara and humbled that our movement had the gift of a brilliant woman of faith that has supported the healing of wounds inflicted by traditions who couldn't hold the light that we are. Job well done, Barbara, enjoy retirement!" – Rev. Rodney McKenzie, Jr., Vice President of Ally Development, Fetzer Institute, former faith work director at the Task Force
"I first met Barbara in the early 2000's as an advocate for older LGBTQ adults. She was so compelling, I joined her in that work. Over the years our work evolved into organizing within religious communities for LGBTQ equality. Most recently, Barbara and I have partnered on several workshops for clergy helping them "turn their sermons into soundbites" and how to meet with their representatives on equality issues. Although she is retiring from the daily grind, I know Barbara will continue to be an advocate for others." – Rev. Dr. Roland Stringfellow
Pronouns – He/Him/His African American Roundtable Coordinator and Umoja Project Coordinator, The Center for LGBTQ and Gender Studies in Religion
In 2015, the Trans* Seminarian Cohort gave me the strength and courage to complete my seminary studies. I graduated in May 2018 with a Master of Divinity from Luther Seminary, and I was honored to be a member of the Cohort faculty in 2019 as I waited for my first call as a pastor. With the support and encouragement from Barbara, faculty, and students, I was ordained to the ministry of Word and Sacrament in the Evangelical Lutheran Church in America on November 23, 2019. I am a pastor because of the tremendous support of Barbara through her shepherding of the Trans* Seminarian Cohort for eight years. The Reverend Nicole M. Garcia, M.A. LPC ELCA pastor, therapist, and clinical supervisor, Louisville CO
---
The National LGBTQ Task Force advances full freedom, justice, and equity for LGBTQ people. We are building a future where everyone can be free to be their entire selves in every aspect of their lives. Today, despite all the progress we've made to end discrimination, millions of LGBTQ people face barriers in every aspect of their lives: in housing, employment, healthcare, retirement, and basic human rights. For more information go to https://www.thetaskforce.org