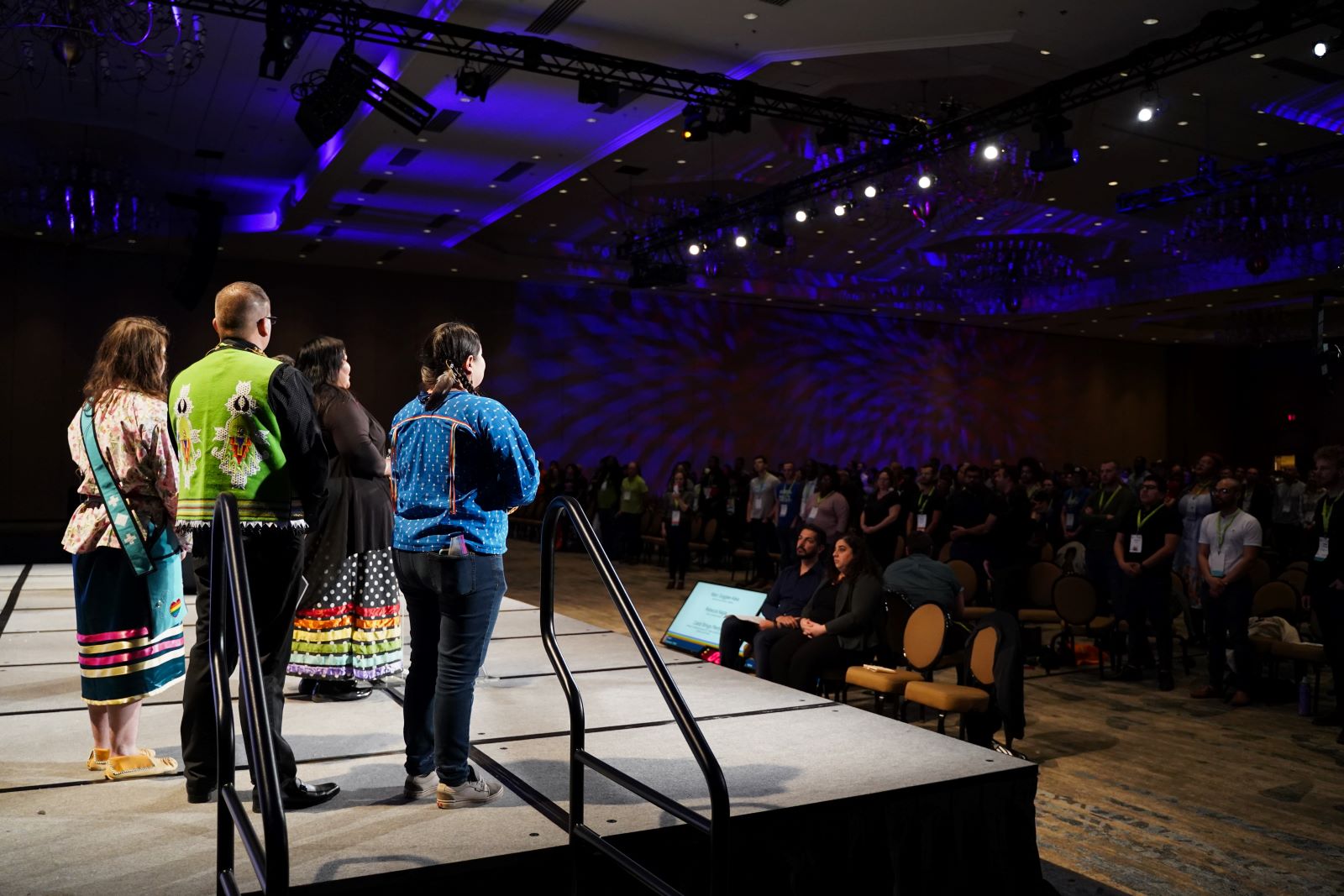 REVEREND ANGEL KYODO WILLIAMS TO KEYNOTE
(Dallas, TX – December 2, 2019) – Thousands of LGBTQ advocates, activists, leaders, and allies will gather in Dallas, TX for the 32nd Creating Change Conference from Wednesday, January 15 through Sunday, January 19, 2020 at the Sheraton Dallas.
The Creating Change Conference, run by the National LGBTQ Task Force, is the foremost political, leadership, and skills-building conference for the LGBTQ social justice movement. Since 1988, Creating Change has created opportunities for tens of thousands of committed people to develop and hone their activist skills, build community, and inspire. This year, in addition to the political focus of the work, the Conference will be focusing on the 2020 Census and building capacity to ensure everyone is counted.
The primary goal of the Creating Change Conference is to build the LGBTQ movement's political power from the ground up to secure our overarching goal of full freedom, justice, and equality for LGBTQ people and their families in the United States.
This will be the second Creating Change Conference managed by Andy Garcia, who is bringing some new changes to the longtime activist gathering as attendance grows and diversifies. Garcia said, "It is clear that 2020 will be a critical year for all of us, including LGBTQ communities. We face a historic election year, some of the most significant Supreme Court cases in our lifetime, on-going attacks from the current administration, and an epidemic of violence, among other challenges. Creating Change is where LGBTQ advocates, activists, leaders, and allies come together to learn and connect with each other, with a focus on creating a welcoming space for queer and trans people of color. We need that now more than ever."
The keynote speaker for Creating Change 2020 will be Reverend angel Kyodo williams, who will kick off this year's conference at the opening plenary on Thursday, January 16, 2020 at 7 PM. With the alarming murders of trans women of color across the country, the Creating Change Conference community will also be rallying to spotlight and build capacity to address this epidemic as well as featuring the resilience, determination, and leadership of the trans community.
PLENARIES

Opening Plenary Session: Love, Learning, and Liberation
From the Census to the election, 2020 is going to be historic. We have a lot of work ahead of us against a backdrop of an epidemic of trans women of color being murdered and a rollback of hard-fought gains by the current administration. This plenary aims to set a new tone for the conference and for our movement: one of love, learning, and liberation. As we create change together, how can we be mindful to center our hearts and our minds?
Opening Keynote Speaker: Rev. angel Kyodo williams: Love and Justice are One
Called "the most intriguing African-American Buddhist" by Library Journal, angel Kyodo williams is an author, activist, master trainer, and founder of Transformative Change. Her newest work, Radical Dharma: Talking Race, Love & Liberation, is igniting communities to have the long overdue conversations necessary to become more awake and aware of what hinders liberation of self and society. angel notes, "Love and Justice are not two. Without inner change, there can be no outer change. Without collective change, no change matters." She was made for these times.
Plenary Session: The Annual State of the Movement Address
Following our Creating Change 2020 theme, "Love, Learning, and Liberation," Task Force executive director, Rea Carey, and deputy executive director, Kierra Johnson will host the annual State of the Movement plenary. Even as LGBTQ people and their families are under attack by the current administration, we know our community is strong, resilient, creative, and determined. This year, with special guests, we will focus on the issues facing trans women of color, the work being done to address anti-trans violence and systemic discrimination, and moving us forward in our work for freedom, justice, and liberation. Come be inspired to fight on, and defeat those who intend to make our lives invisible!
Closing Plenary Session: Queering Immigration: Owning Our Power, Building the Defense Line
Immigration will once again be a top issue this election year. This panel will focus on how we can collectively build power by centering the needs and experiences of those most impacted: queer and trans people of color. Our expert panelists will talk about deportation defense, rapid response at the neighborhood, city, and state level, the criminalization of Black and Brown bodies, legislative victories, and so much more. Our call to action will be the work that still needs to get done: closing the camps, stopping the arrests and deportations, and imagining a world without borders.
The immigration-focused panel will be made up of Sharita Gruberg (She/Her/Hers), policy director for the LGBT Research and Communications Project at the Center for American Progress; Oluchi Omeoga (They/Them/Theirs), a co-creator and Core Team member of Black Visions Collective, a black-led local organization working in Minnesota; Monserrat Padilla (She/Her/Hers) the Coordinator for the Washington Immigrant Solidarity Network; Nancy Haque (She/Her/Hers), executive director of Basic Rights Oregon, an LGBTQ political advocacy organization with a focus on transgender justice and racial justice; and Dani Marrero Hi of the Texas Civil Rights Project.
New for this year, the traditional closing plenary brunch will be replaced by a dynamic indoor street fair on Sunday, January 19th with an 11:30 am – 1:00 pm "Send Off Celebration!" including accessible HIV testing and mammogram screening.
DAY-LONG INSTITUTES

This year's Racial Justice Institute encompasses queerness and racial diversity within an expression and experience that centers on resisting with all our brilliance, our joy, and our truth. Keynote speaker and Queer Black Feminist Love Evangelist Alexis Pauline Gumbs will offer a loving reflection and an accessible practice designed to impact how to work together through and across difference and depth. In addition, our second keynote Timothy DuWhite is a Black, queer, poz-writer/artist based out of Brooklyn, NY. A majority of his work circles around the intersections of state & body, state & love, and state & mind. Following our keynotes is a series of afternoon breakout sessions on topics that range in topics from Talking to Kids about Race, Respectfully United – Allyship Without Tokenization, Beyond D&I: Organizing for Racial Equity, The Metamorphosis of White Men: Ending our Legacy and Creating a New Story.

Also this year, the Conference team is excited to add six new Day Long Institutes, bringing the total number of these intensive eight hour sessions to 23. New topics like Disability Justice and Leading in Complex Situations will be held alongside returning favorites like the Trans Institute, Latinx Institute, and LGBTQ+ Campus Resource Professionals Institute.

For more information about the day long institutes see here: https://www.creatingchange.org/day-long-institutes-2/
WORKSHOPS AND CAUCUSES

The conference features over 250 workshop and caucus sessions. Workshops range from 90 minutes to three hours, addressing the vast scope of issues relevant to LGBTQ activism and organizing. There are nearly a dozen sessions on campus organizing, several intergenerational dialogues, many workshops focused on healing and well-being, art and theater activism, racial and economic justice, trans issues, and a robust track for political advocacy. Caucuses cover a broad range of identities and interests, including caucuses for deaf queer people, lesbians, Queer Middle Eastern and North African (MENA) people, LGBTQ people in STEM, LGBTQ Jews, and parents.
AWARDS
SAGE Award for Excellence in Leadership on Aging Issues: Carmen Vasquez
Carmen Vasquez was born in Puerto Rico and grew up in Harlem, New York. Among her many accomplishments, Vasquez was the Founding Director of the Women's Building in San Francisco, helped found the Lavender Youth Recreation and Information Center in San Francisco, and the LGBT Health & Human Services Network. She was a founder and principal author of Causes in Common (a national coalition of Reproductive Justice and LGBT Liberation activists). Her essays have been published in several anthologies and she has made scores of keynote presentations at conferences and college campuses across the United States. Vasquez is the Co-Chair of the Woodhull Freedom Foundation Board of Directors and the former Director of LGBT Health and Human Services.
Haas, Jr. Award for Outstanding LGBTQ Leadership for Immigrant Rights: Stephanie Cho
Stephanie Cho is the Executive Director for Asian Americans Advancing Justice – Atlanta. She brings 20 years of experience in labor and community organizing, strategy planning, and fundraising at the local and national level. Under her leadership over the last three years, AAAJ-Atlanta has worked to protect DACA and end local law enforcement cooperation with ICE. Originally born in South Korea, Cho grew up in Oregon. In 2015, she co-authored "Beyond the Binary: A Tool Kit for Gender Identity Activism in Schools." Last year, she was a Grand Marshal for Atlanta Pride.
The Leather Leadership Award: Judy Tallwing McCarthy
Judy Tallwing McCarthy has been involved in the leather/BDSM world since 1969; and, in 1987, became first International Ms. Leather. That same year, she was the leather community's keynote speaker at the 1987 March on Washington. She has also served as Co-Chair of the National Leather Association from 1988-1992. She is widely credited for helping change the focus of leather to community activism. Judy Tallwing McCarthy continues to judge, teach, and speak at various leather events and has been honored with numerous awards from the leather community. Of Apache, Tewa, and African descent, Judy Tallwing McCarthy has raised raising six biological children (with 25 grandchildren and 13 great-grandchildren) and nurtured and protected numerous "leatherkids." Judy Tallwing McCarthy will be the first woman of color to receive the Leather Leadership Award.
The Susan J. Hyde Award for Longevity in the Movement, sponsored by Wild Geese Foundation: Monica Roberts
Monica Roberts is the founding editor of the award winning TransGriot blog, and a longtime award-winning human rights advocate. She has been advocating for the human rights of transgender people for over 20 years, with a focus on the issues affecting Black trans people. Her writing has appeared at Ebony.com, the Advocate, Black Girl Dangerous, and in the 'Unapologetically Trans' monthly column in Houston's OutSmart magazine. Some of the honors that Roberts has received are the 2018 GLAAD Media Award, the Robert Coles Call of Service Award from Harvard University's Phillips Brooks House Assn, the Virginia Prince Transgender Pioneer Award, the Barbara Jordan Breaking Barriers Award from the Harris County Democratic Party, the IFGE Trinity Award, and being named to the 2019 OUT100.
ACCESSIBILITY

The Creating Change Conference is committed to radical accessibility. Everyone benefits when everyone participates fully and equitably in every aspect of the conference. When you register online for Creating Change, you can request:
ASL interpretation
Spanish translation
Programs in large print
Electric scooters and wheelchairs
Assisted Listening Devices
Magnifiers, readers, and step stools
There will be a staffed Accessibility Table set up near registration, where attendees can ask questions, meet up with an interpreter, and pick up the items listed above.
There will also be an ASL "Hub" where our team of ASL interpreters meet and plan their day. Last year we had over 40 ASL interpreters.
There will also be a People with Disabilities Hospitality Suite where those who need and want to have an opportunity to regroup and relax.
PRESS CREDENTIALS

Press are invited to the conference, and press credentials are given out as space provides. To request credentials email Sarah Massey and Cathy Renna below. Confirmation of credentials will be considered on a rolling basis and as space allows.

MISSION STATEMENT

The National LGBTQ Task Force advances full freedom, justice and equality for LGBTQ people. We are building a future where everyone can be free to be their entire selves in every aspect of their lives. Today, despite all the progress we've made to end discrimination, millions of LGBTQ people face barriers in every aspect of their lives: in housing, employment, healthcare, retirement, and basic human rights. These barriers must go. That's why the Task Force is training and mobilizing millions of activists across our nation to deliver a world where you can be you. For more general information go to https://www.thetaskforce.org
Contact: Sarah Massey, Communications Director, National LGBTQ Task Force, 202-639-6308, smassey@thetaskforce.org
Cathy Renna, TargetCue, 917-767-5123, cathy@targetcue.com