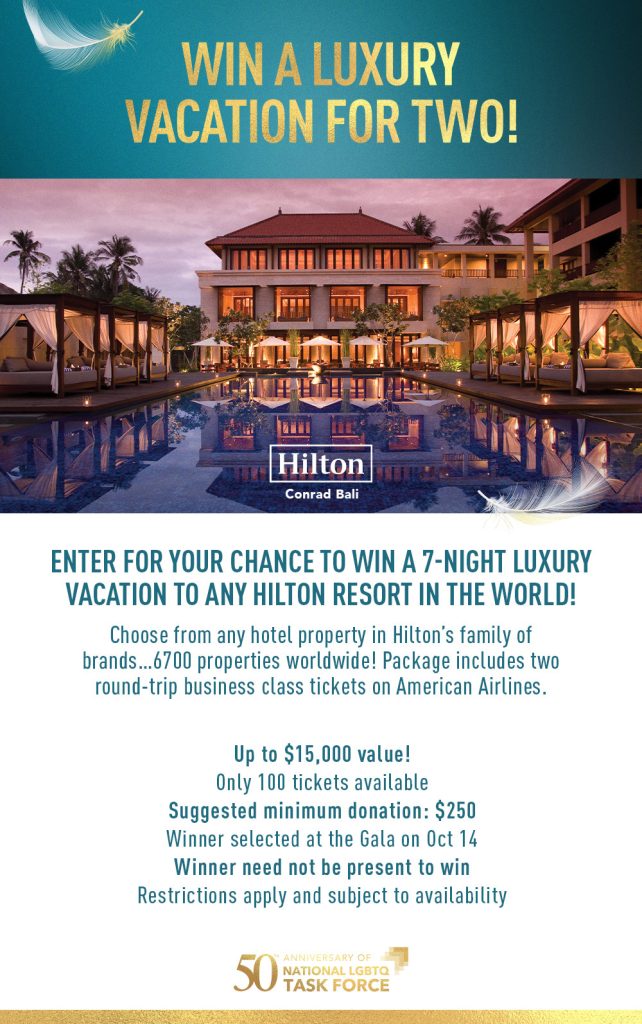 This drawing is being conducted by the National LGBTQ Task Force, located at 960 W 41st Street, Suite 312, Miami Beach, FL 33140. The prize is generously underwritten by Hilton Hotels, American Airlines, and the Task Force. The drawing will take place on October 14, 2023 at the Miami Beach Convention Center. The winner need not be present to claim the prize and will be contacted by the Task Force in the event they are not in attendance at the drawing. There will be only one winner. Participants and the winner must be lawful U.S. residents over the age of 21. Task Force employees and their immediate family are not eligible to participate. Air travel must be on routes serviced by American Airlines. Partner airlines of American Airlines do not qualify. Not included in the travel value are any ground transfers, insurance, government taxes, or personal expenses incurred during the trip. Please make checks payable to: National LGBTQ Task Force. Hotel reservations are subject to availability.
Hotel stay must be concluded by October 14, 2024.
Fulfillment info: Please call the Miami office at 305.571.1924, email bmarone@thetaskforce.org or click here.